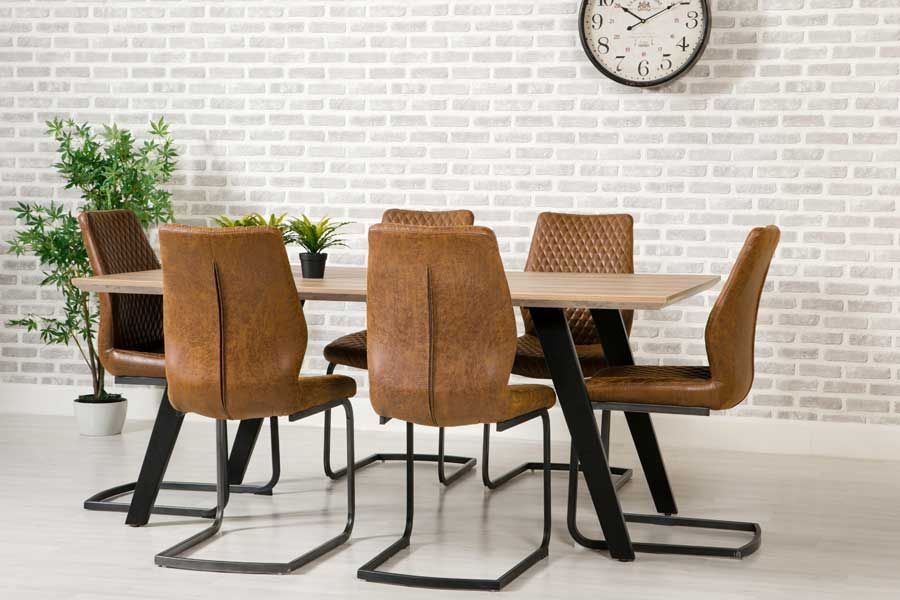 25/05/2023 0 Comments
Kitchen Tables: Your Questions Answered
The kitchen table forms the centrepiece of your kitchen. In many ways, the interior design of the kitchen or dining room should be built around the table. More than just being a place to eat, the kitchen table often transforms into a homework desk, a home office and a place for entertaining. With this in mind, a table needs to be robust and multifunctional. With so much to consider, it's no wonder our clients have many questions about kitchen tables. To make this information more accessible, we have compiled the most frequently asked questions below.
How do I choose the right kitchen table?
Choosing the right kitchen table involves considering several factors to ensure it fits your needs and preferences. Here are some steps to help you make the right choice:
Measure your space: Begin by measuring the available space in your kitchen to determine the maximum dimensions for your table. Consider the area's length and width to ensure the table fits comfortably without obstructing walkways or other furniture.
Determine the table size: Consider the number of people who regularly use the table. A smaller table may be sufficient if you have a small family or live alone. For larger families or if you frequently entertain guests, a larger table or one with extension leaves might be more suitable.
Choose the shape: Kitchen tables come in various forms, such as rectangular, square, round, or oval. The body you choose depends on your personal preference and your kitchen layout. Rectangular tables are famous for their versatility, while round tables can facilitate better conversation flow.
Consider the style: Select a table that complements the overall style of your kitchen. Tables are available to match whether your kitchen has a traditional, modern, rustic, or eclectic design. Please take a look at the table's material, finish, and details to make sure it aligns with your kitchen's aesthetics.
Assess the durability: Since the kitchen is a high-traffic area, choosing a table that can withstand daily use is essential. Look for tables made from durable materials like solid wood, metal, or glass. Avoid easily scratched or damaged materials, especially if you have young children or pets.
Evaluate maintenance requirements: Consider the level of maintenance you're willing to undertake. Some materials, like wood, may require regular sealing or polishing to maintain their appearance. Others, such as glass or laminate, are generally easier to clean and maintain.
Think about functionality: Determine the intended uses of the table beyond dining. If you plan to use it for various activities like homework, crafts, or office work, a table with a sturdy surface and possibly storage options (such as drawers or shelves) might be beneficial.
Test comfort: Visit a furniture store and try sitting at different tables to assess comfort. Consider the height of the table and the chairs or stools you plan to pair with it. Ensure ample legroom for everyone and that the chairs are comfortable for extended periods.
Set a budget: Determine your budget range for the kitchen table. Prices can vary significantly based on the material, size, and design. Setting a budget beforehand will help you narrow your options.
Are you still trying to figure out what kind of table you need? Then we recommend visiting our Portlaoise furniture store; our experts can help you select the perfect table.
What is the right finish for a kitchen table?
You can use different types of finishes for a kitchen table, depending on the look and durability you want. Some of the most common ones are:

• Wax: This natural product gives a soft, matte finish and enhances the wood grain. 
• Oil: This natural product penetrates the wood and gives a warm, rich finish. 
• Polyurethane: This synthetic product forms a hard, glossy finish on top of the wood. It is more durable and resistant to water, heat, and scratches than wax or oil, but it may alter the natural colour and texture of the wood.
The best finish for your kitchen table depends on your preference and how you use your table. You may prefer wax or oil for a natural look and feel. If you want more protection and durability, you may choose polyurethane. 
What is the difference between a hardwood and a softwood kitchen table?
A hardwood kitchen table is made from wood from angiosperm trees, such as oak and walnut. These trees have broad leaves that fall every autumn; their seeds are enclosed in fruits or nuts. Hardwood is usually denser and more robust than softwood because hardwood trees grow slower. Hardwood is also more resistant to scratches and damage than softwood.

A softwood kitchen table is made from wood from gymnosperm trees, such as pine, cedar and spruce. These trees have needle-like leaves that remain green year-round, and their seeds are not enclosed in anything. Softwood is usually less dense and weaker than hardwood because softwood trees grow faster. Softwood is also more prone to scratches and damage than hardwood.
Both hardwood and softwood can be used for making kitchen tables, but they have different advantages and disadvantages. Hardwood is more durable but also more expensive and heavier. Softwood is cheaper but also less resistant and lighter. The choice depends on your personal preference, budget and style.
Of course, you'll still have some questions about your unique kitchen table needs, so please review our online collection and visit our furniture store today.
Feed