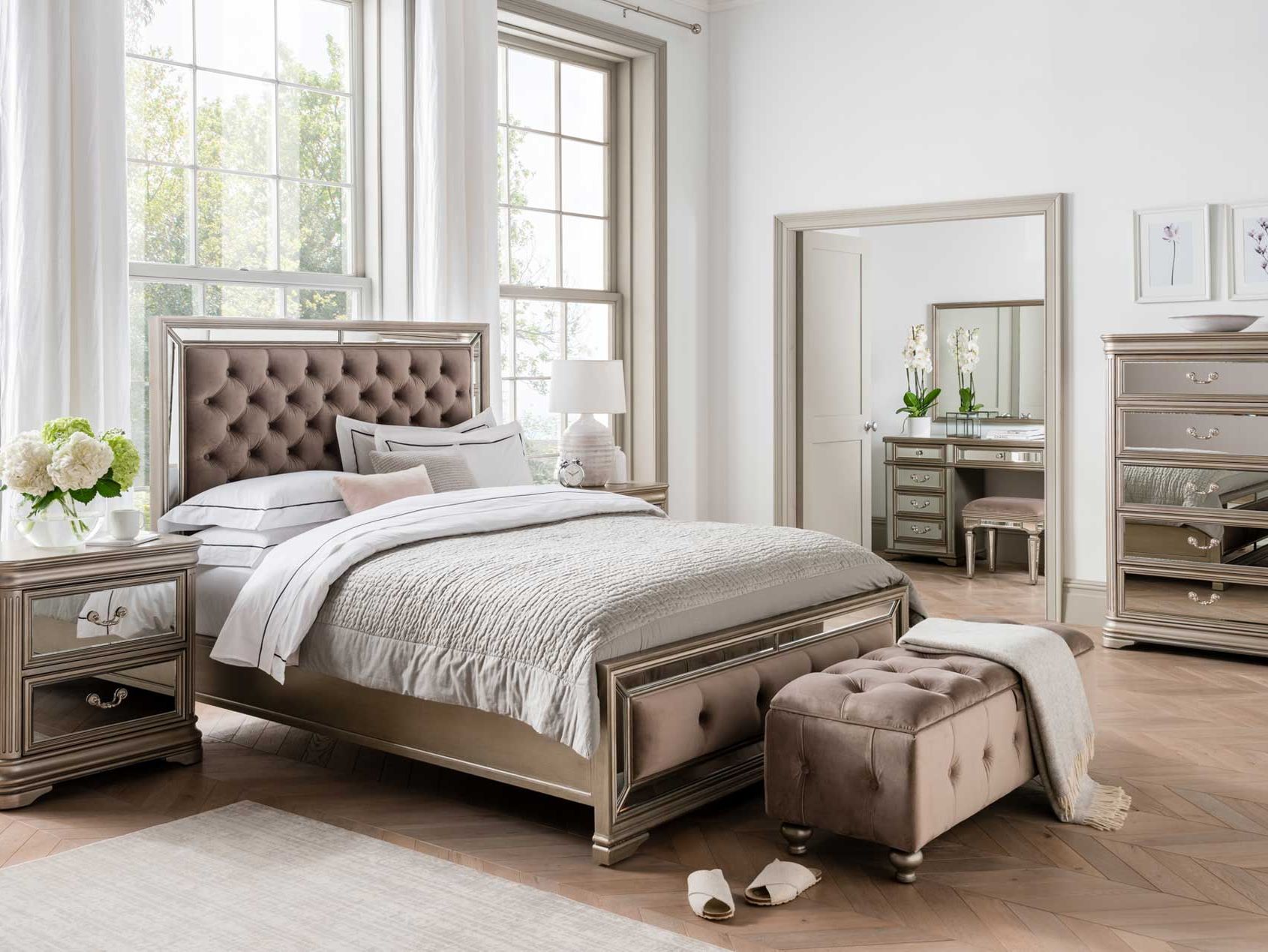 18/05/2022 0 Comments
How to make your bedroom individual to you! – Cloud 9 Furniture
Have you ever walked into your bedroom and wanted a complete revamp? Have you ever wondered what parts of your bedroom furniture you could alter to make your bedroom individual to you? We at Cloud 9 Furniture have the perfect variety of Bedroom furniture to suit your room's style, budget, and size.
Bedroom Furniture
At Cloud 9 Furniture, we have a range of different Bedroom Furniture and accessories. We stock a range of different Bedframes, Wardrobes, and Chest of Drawers which can all be viewed in our showroom in Laois.
We stock our bedroom furniture products in various shapes and sizes to ensure that you can make the most of your space.
Choosing the Style of your Bedroom
At Cloud 9 Furniture, we have many different styles to fit your needs. Whether you like a big princess bed with a quilted headboard or a sleek dark coloured wooden bed, we have got you covered! Before you decorate your bedroom, some very important questions are what exactly is your style? Is your style sleek, elegant, chic, or laid back? Have you seen a bedroom style that you liked before? If so, what did you like about it? Was it the clean white drawers or the sleek, dark brown wardrobes?
Here at Cloud 9 furniture, our team is here to help you with your bedroom renovation by listening to your ideas and giving you suggestions on which pieces we feel would suit your needs
.
Colour Scheme
When redecorating your room, another aspect to consider is the colour scheme. A room's colour scheme can give the room a whole different vibe. Depending on your personality, some people would prefer a clean vibe in their room others would prefer a cosier feel. A clean vibe would usually consist of light colours such as whites, creams, beige's and pastels. A cosier aesthetic would usually consist of warmer, darker colours such as browns and blacks.
You can include these colours within the bedroom furniture through Chest of Drawers, Wardrobes or your Wardrobe. A pop of colour is also something to consider when decorating your room as it will break up the neutral colours.

 Is there enough Space?
Depending on your lifestyle, another thing to consider when decorating your room is if there is enough space. A great way to create space within your room is using bedroom furniture pieces such as a desk or side table with storage compartments embedded into them.
These are a great idea to keep your belongings away and out of sight, creating extra space throughout the room. You can also use wardrobes, a chest of drawers and some bed frame styles for extra storage.
Feed